$32 million for the Interchange to Nowhere is a non-starter
Uh oh, looks like some prominent Vancouver Island condo kings can't afford to pay for their massive new subdivisions. But wait, help is on the way! On March 12, Langford Council decided to make a formal request for a $32 million taxpayer bailout for the Bear Mountain Resort developers. What a relief - the landowners don't have to build the road to the resort!
Taxpayers will do it for them!
Hurrah! Except ...
It is illegal for a municipality to bestow a cash grant on a private company. Apparently there's this nitpicky little legal point the province has about preventing -- what do you call it? Oh, yeah,
corruption and graft
. Sorry.
Points for style, though! It takes a special kind of chutzpah to brag (loudly and constantly) that this fabulous new "infrastructure" (or amenity, or Local Area Service, or whatever you call it this week) will be
100% paid for by developers,
and then turn around and beg for a federal bailout. Of course, the grant would have to be matched by municipal revenue, meaning taxpayers get soaked twice.
The best part was forbidding any public input about this project. A million points for brazen effort!
But FAIL
.
Exposed
:
Why Langford's mayor, deputy mayor, and chief planner should resign.
Shocking
:
Letter from Langford planner Matthew Baldwin threatening legal action against a Gottengen University scholar for expressing her opinion.
SECRET
:
Bear Mountain Golf and Country Club's private membership list
(Yes, Mayor Stew Young is a member of the $35,000 exclusive club!)
Classified Leak
:
Spencer Interchange Repayment Agreement
WARNING! 8 MB file

.
See page 94 - 111 for details about the interchange.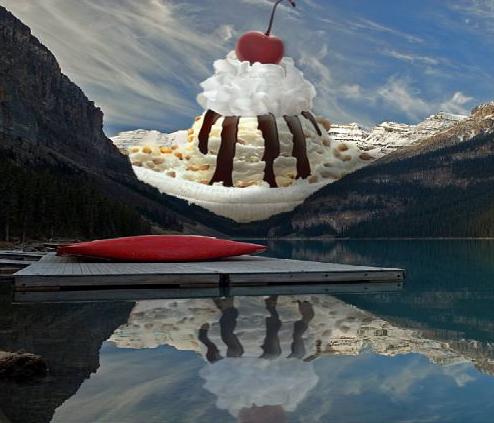 Big Rock Cocaine Mountain

~ a parable for our times ~
Once upon a time, in a place far, far away from Langford, an evil drug lord built a fortress on a mountain. Drugs are bad, m'kay? Don't do drugs. The end.
SPAET is native land. Read more about sacred caves and traditional practices at
First Nations - Land Rights and Environmentalism.